We start our journey during the time of ancient film making of 1920's by the movie Nosferatu, black and white, silent movie also the first vampire ever apeared on screen - the Count Orlok an unauthorised adaptation of Bram Stoker's Dracula in 1922 by Friedrich Wilhelm Murnau.
Then we stop every 10 years to look for some cool type of a vampire movie and we add to the presentation also certain type of camera that was used during the shooting.
We go throught the whole 20's centry and we end in a present times by the vampire blood party in the movie Blade starring Wesley Snipes and created by Stephen Norrington. ENJOY THE RIDE!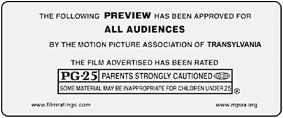 Project SAJOU.cz is a complete fiction non of the character are real and are not corresponding to the reality likewise all the motion picture ssscameras used in the project are not corresponding to the timing!
Made by LUMAPA Production company created by LUcia, MArek and PAvel specialized on production of all kinds of Horror movies!
Download Bonus (1280x1024): Desktop LUMAPA, Desktop SAJOU
Team thanks Maria Callas for using her incredible voice in the project!
Copyright
Sajou Team
2007 design by
Pavel Dvorak
for UTB